R.E.S.P.E.C.T. - A Tribute to the Golden Era of Soul Fairfield Soul Revue Orchestra Sondheim Theater, Fairfield Convention Center March 11-12, 2011

"Sometime in the spring/summer of 2010, a small group of my closest musician friends and I gathered together in my studio with the idea of mounting a full blown soul revue that would feature the best of Stax, Motown, Atlantic and Philly soul (or at least the songs that we loved the best) with an eye towards staging this at the Sondheim Theater in Farifield, Iowa. March 11 and 12 of 2011 became our target date. We had just participated in the Motown show for the Fairfield Musicans Club in the winter of 2010 and decided to try to expand on it. Our small band of merry pranksters soon grew to almost 20 plus musicians. Horn section, background singers, 5 lead singers, percussion section, violin, rhythm section and of course....choreographed dancers. Somehow we managed to fit everyone into my studio which now had become known as the Soul Shack. After rehearsing for almost a year and lots of blood, sweat and tears we put on a spectacular show to an enthusiastic sold out house. This was a labor of love for all involved and a moment of pure joy that we feel lucky to have experienced." by Kent Hofmeister

Set List

Time Is Tight by Booker T. & The M.G.'s - The Soul Revue Band
Last Night by The Mar-Keys - The Soul Revue Band
Reach Out, I'll Be There by The Four Tops - Gabe Brown
Baby I Need Your Loving by The Four Tops - Gabe Brown
(Your Love Is Like A) Heat Wave by Martha & The Vandellas - Bonnie Van Buskirk
Ooo Baby Baby by The Miracles - Bonnie Van Buskirk
Just My Imagination by The Temptations - Bonnie Van Buskirk
Jimmy Mack by Martha & The Vandellas - Adrien Daller
Where Did Our Love Go? by The Supremes - Adrien Daller
Baby Love by The Supremes - Adrien Daller
I Heard I Through The Grapevine by Marvin Gaye - Gabe Brown
Tears Of A Clown by Smokey Robinson & the Miracles - Gabe Brown
Respect Yourself by The Staple Singers - Steve George & Bonnie Van Buskirk
Let's Stay Together by Al Green - Bonnie Van Buskirk
What's Going On? by Marvin Gaye - Bonnie Van Buskirk
Midnight Train To Georgia by Gladys Night & The Pips - Adrien Daller
La La Means I Love You by The Delfonics - Adrien Daller
Dancing In The Streets by Martha & The Vandellas - Adrien Daller
Funky Broadway by Wilson Pickett - Gabe Brown
Shotgun by Jr. Walker & The All Stars - Gabe Brown & Josh Ellinghaus featuring Paul Weddle
Whatcha See Is Whatcha Get by The Dramatics - Gabe Brown & Bonnie Van Buskirk
Let's Get It On by Marvin Gaye - Gabe Brown & Bonnie Van Buskirk
Take Me To The River by Al Green - Bonnie Van Buskirk
What Becomes of The Brokenhearted by Jimmy Ruffin - Bonnie Van Buskirk
You Keep Me Hanging On by The Supremes - Adrien Daller
Think by Aretha Franklin - Adrien Daller
Rescue Me by Fontella Bass - Adrien Daller
Hold On, I'm Coming by Sam & Dave - Gabe Brown & Josh Ellinghaus
Soul Man by Sam & Dave - Gabe Brown & Josh Ellinghaus
(You Make Me Feel Like A) Natural Woman by Aretha Franklin - Adrien Daller
Respect by Aretha Franklin - Bonnie Van Buskirk
Love Train by The O'Jays - Entire Cast

Personnel Lead Singers

Gabe Brown
Bonnie Van Buskirk
Adrien Daller
Josh Ellinghaus
Steve George

The Love Tones

Katie Thauwald
Carol Carlisle
Meret Giacomini
Josh Ellinghaus

Soul Revue Band

Doug Daller - Director & Arranger; keyboards
Will Gunn - Bass
Kent Hofmeister - Drums
Richard Hulley - Guitar
Fred Swartz - Vibes & Percussion
Peter janssen- Congas

Soul Revue Orchestra

Paul Weddle - Lead Saxophone
Jason Edwards - All Woodwinds: Flute, Bassoon, Baritone Sax>
Steve Giacomini - Saxophone
Dara Craul - Saxophone
Joe Mandarino - Saxophone
Craig Bartimus - Trumpet
Lauryn Shapter - Violin

Dancers

Emily Rainey
Elysia Bellilove
&nbsp
Promo for R.E.S.P.E.C.T. A Tribute to the Golden Age of Soul March 11-12, 2011
(excerpts from the Saturday Night at the Sondheim Concert Series - Motown R&B, January 29-31, 2010)
They're BACK by popular demand! For 2 nights only - Friday, March 11 and Saturday, March 12 - The Fairfield Soul Revue Orchestra triumphantly returns to the Sondheim to play the most memorable Motown, Memphis, New York & Philly Soul hits from the '60's & early '70's.
Featuring a revamped line up & showcasing the vocal talents of Adrien Daller, Bonnie Van Buskirk, the Soul Kittens & other special guests, this loving tribute to The Golden Era of Soul Music will have you laughing, crying & dancing in your seat to authentic arrangements played with power & authority by musicians truly passionate about this music. If you missed the concert the first time, now is your chance to see & hear for yourself what everyone was raving about!
So, get down with the Groove as the Fairfield Soul Revue Orchestra blows the roof off the Sondheim with an evening of Classic Soul! Don't wait - these two shows will sell out quickly.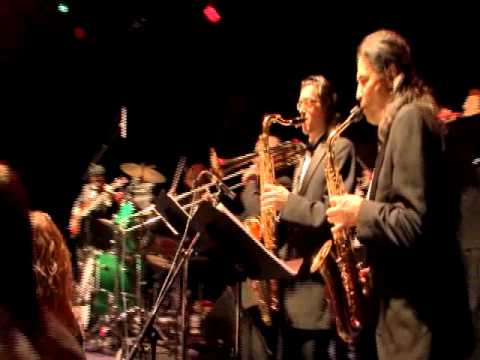 Promo for R.E.S.P.E.C.T. A Tribute to the Golden Age of Soul march 11-12, 2011
&nbsp